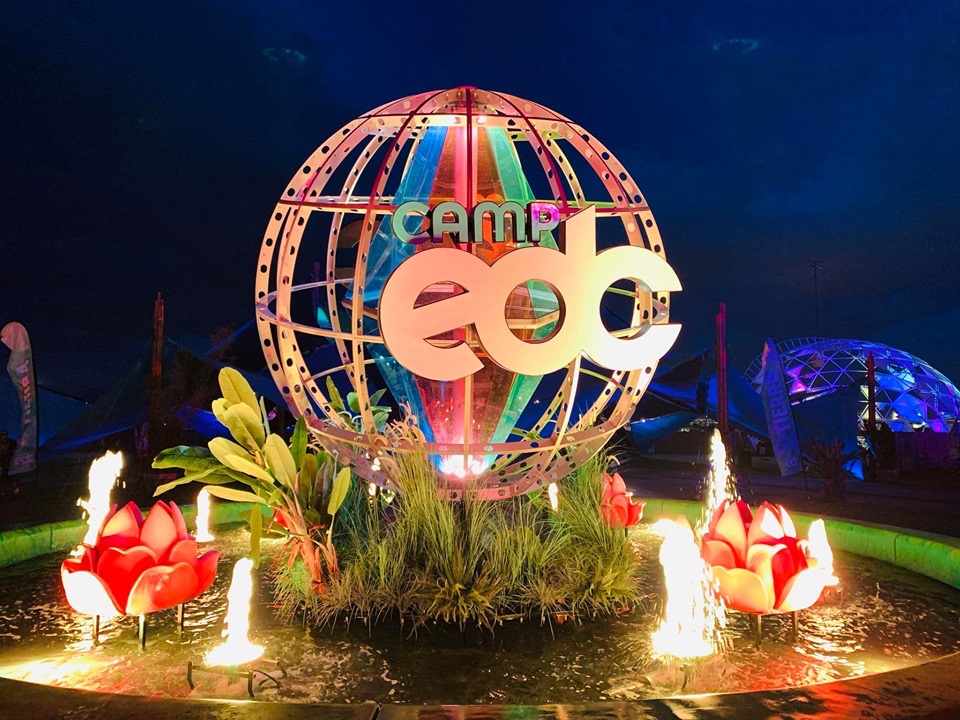 Please note: Camp EDC is sold out for 2022! You might have luck on the Gay Rave & Circuit Almanac group, or the unofficial Camp EDC group.
The most common question I hear from friends about my EDC Las Vegas experience is "should I camp?" Here's my tl;dr version:
Is it imperative to you that you have spotlessly clean and private bathrooms and showers? (Conditions at camp aren't bad at all, but it's clearly not the Four Seasons)
Are you a very light sleeper (ie, earplugs/face masks don't help you?)
Are you willing to tolerate the 45 minutes to 3+ hour door-to-door travel time to get from your hotel on the strip to the festival, each way?
Do you enjoy the walk of shame (walk of pride?) thru hoards of bewildered middle-America vacationers on the strip, while decked out in rave gear, from the shuttle stop to your hotel?
Are you shocked by/can't afford the captive-audience pricing for the camping pass and for food?
Do you need a break from the party, or do you want to be totally immersed in the EDC/EDM culture experience?
If you answered yes to most of these, maybe staying on the strip is better for you. But in exchange for a few trade offs, you get to live the EDC dream 24/7, and best of all, skip what is hands down the worst part of EDC: the long, grueling, traffic snarled, commute from the strip to the speedway. Read on for the details! Some things to keep in mind: you'll likely be too exhausted to do anything else on the strip while you're there. EDC is a eat-sleep-rave-repeat dusk-to-dawn experience, and you'll want to spend as much time inside as you can. There are gay parties Thursday night at Pirhana (the local club), but doing these plus EDC is, in my personal opinion, pretty extreme, and not worth the effort. You may disagree with me if, for example, you're more there for the party than for the music.
So what is the Camp EDC experience like? Let's break it down. In this guide: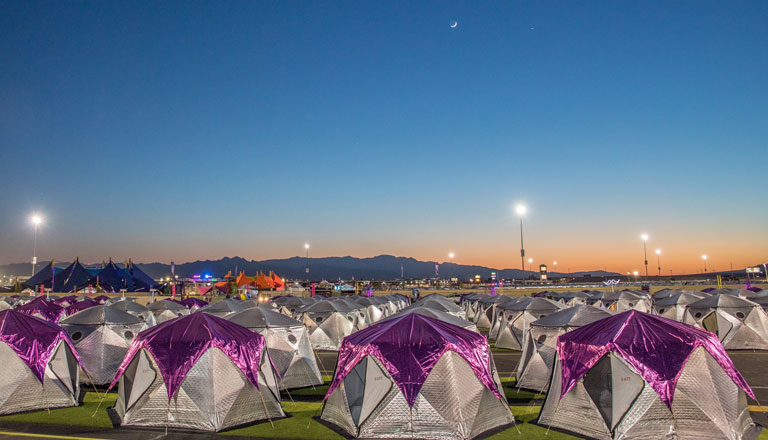 Ticketing
You buy your Camp EDC ticket separately from your festival ticket; a camping pass does not include a ticket (but requires one at check in). EDC event tickets typically go on sale first, followed by camp later. In 2022, previous-year campers were offered access to passes a day early, and the remaining passes (after everyone else who'd rolled over their COVID-cancelled 2020 ticket) sold out within one second.The cost went up for 2022, to $1467.87 after taxes and fees, for an empty 4-person tent (aka "Moon Glow"), or $300 more for a same-size 2-person VIP tent with bedding already provided/set up for you ("Desert Rose"). Desert Rose campers have the option of either a queen size or two twin mattresses. If you split among 4 people, that means you're paying $367/person, but you can have any number from 1-4 in your tent—it's $1,468 for the tent, what you do with it is up to you.
There's also a bring-your-own RV option with our without electrical hookups (after fees $562 for 30A, $790 for 50A), and with water/sewer service extra, about $80. Camping passes include one parking space, more are available for purchase ($124) while supplies last. For more on the RV option, see this FAQ on Reddit.
New for 2022 is a new "turquoise lot" camping area, that's further away from the Mesa, the camp activity center. If you're a light sleeper, this is for you—the camp stage is LOUD, including after the main festival closes, and is only quiet for a brief period mid day. The tradeoff, however, is a 15-20 minute walk from the Turquoise neighborhood to the Mesa to eat or do any of the activities, or to the festival entrance. Turquoise has its own bathrooms, shower, general store, and chill zone. Insomniac recommends bringing a bike to visit the Mesa. Credit goes to Brian Chmiel of the unofficial camp Facebook group for analyzing the satellite photo and figuring this out!
As of this writing, only Turquoise RV slots are available.
Packing
There are tons of pack lists available on the internet—but the one that really counts is the official list of allowed and banned items. Check the Camp EDC website close to the festival dates for the complete and up to date list. How carefully that list is enforced can be a dice roll (see "security" below)—but my advice is to play it safe. If you're caught with a banned item, your only choice will be to throw it away at the gate.
Some highlights from the official 2022 banned item list that might surprise you:
Liquor above 16% ABV (32 proof—no vodka etc!)
Loose beverage cans not packaged in a sealed box; max 24 twelve-oz cans
Helium baloons
Audio systems that are powered by anything more than USB
Butane camp stoves (propane for some reason is fine)
Non-shatter-proof mirrors
Nothing that comes in a spray bottle
Any medication not in its original container (ie in a pill box or prescription bottle with a label)
As you can see, the list is a bit capricious, so read the fine print carefully. Here's my very extensive pack list. Some items make more sense if you're driving and would be too bulky to fly with, so pack at your discretion. Another option is to buy them on the way to camp after you land. I'll say it one more time—be sure to check the current banned/allowed items list, as it may change without notice.
Essentials:
Camping pillow
Camping mat
Sleeping bag
Two luggage-sized combination locks for your tent—that way your friends can get in without needing to hand off a key
Trash bags (for suitcase protection, check the weather—it rained briefly during check in 2019. Insomniac now provides you with trash bags to use once inside)
Insomniac-branded water bottle for camp use (only Insomniac ones are allowed; camp has a filling station)
Hydration pack—must have no more than two compartments and a pocket, must be empty upon festival entry (thus the separate bottle for camp use)
Rope, bungies, or straps, to bundle together luggage while dragging it through the airport and check-in
Sunglasses
Sunscreen—non-spray type
Towel, for the pool and shower
Flip flops for camp and the showers
Flashlight (a small tent light is provided, but you'll want something brighter for digging through luggage)
Gaff tape/duct tape for totem/costume repair
Musician/party earplugs that you can still enjoy the music through and comfortably wear all night
Foam earplugs that block all sound for sleeping
Eye mask, if you're sensitive to light when sleeping
Batteries for light-up accessories, GoPro, etc…
Cube tap/outlet strip—Insomniac provides a power strip, but if you want to use 1001 chargers, you may need a second (but don't plug anything high-wattage like a hair dryer in!)
Chargers
USB battery pack—note that they won't let super jumbo sized ones into the festival
Medication in the original bottles—ibuprofen, tums, sleep aid, PrEP...
Festival outfits, and at least one hang-around-camp outfit. Be sure to check the weather as late as possible before you leave, the forecast can change unexpectedly and it can be anywhere from 90˚F to 55˚F (32˚C-12˚C) and possibly very windy
Swimwear
A runner's belt or fanny pack for securely storing your phone; or a phone tether
Nice to have/optional:
Totem—max 10', no wood, no solid metal; if inflatable, deflated upon entry
Vapes/vape fluid allowed if sealed
Plastic utensils, if needed for food you're bringing
Snacks—I like to bring easy-to-eat post-party recovery stuff that keeps at room temperature, like pudding cups, bananas, clementines, fruit snacks…
Energy drinks (must be 12 oz cans or smaller; no Rockstar/Monster)
Alcohol: no glass, up to 5L wine, up to 16% ABV, and up to 24x 12oz cans sealed in a box—some clever folks found margarita mix at Costco that was exactly the maximum quantity and proof
Protein bars
Speaker—max USB powered (none that require AC power) and super pretty please be #plurIRL and respect the quiet hours
Camera/GoPro—cannot have detachable lenses or a tripod; selfie sticks and flash OK
Memory cards
Kandi/perlers
Kandimaking stuff (beads, string)
Small scissors for kandimaking and last minute costume adjustments
Three shrink-wrapped Vicks inhalers (one per festival entry—they have to be sealed each day)
Three shrink-wrapped packs of gum
Three shrink-wrapped chapsticks
Instant coffee or caffeinated drink mix
A string of LED lights, if you want to decorate the inside/outside of your tent to make it easier to find at night
A flag and zipties to make it easier to identify your tent (our friends stuck a wind sock on our nearby street sign to make it really easy; we also flew a flag from a collapsible flagpole)
A cooler if you want cold stuff (they sell ice)
A propane (no butane or gasoline allowed) camp stove if you want to cook
Folding table, if you plan to cook and you can handle transporting it
Camping or inflatable chairs, for hanging out outside your tent (but the aisle in front of your tent has to be clear while you're gone)
Pool floatie—max capacity 1 adult
Since some of the showers have no changing area (you change in the shower stall itself) and limited hook space, I ended up wearing as little as possible to the shower instead of dressing there, and packing a small go-bag just for bringing to the shower trailers:
Toothpaste
Toothbrush
Razor
TSA-sized body wash, face wash, and shampoo
Hair product

Check In
2018 wasn't Insomniac's first camping setup, but it was their first at EDC Las Vegas. I let my friends be the guinea pigs while they ironed the kinks out, and they reported that the worst part of camp was check-in. The rideshare drop-off was far from check-in, and the line took up to six hours, with no water/restrooms available. Fortunately it's improved every year since then, the drop-off point is now right in front, in 2019 it took me and most people I asked about two hours to get through the line, and this time there were at least access to portapotties. In 2021, there virtually no line at all, but I suspect this may have been a fluke since so many people chose to roll their tickets to 2022 instead.
Lyft and Uber have started making "Camp EDC" one of the two available options for drop off, but be prepared for your driver to be very confused about where to go. Pay attention to the signs, and if in doubt, ask security to point you to the right place. Get them to drop you are close as possible.
Unfortunately, the check in line snakes through a very dusty gravel lot, and you had to drag all your luggage and camping gear through it. People who had more bags than arms had to push half their stuff forward, retrace their steps, push the rest of their stuff forward, then repeat. I was prepared for this, and brought two roller bags and a box with rope that could be strapped to the top of one so that it didn't have to be relay shuffled. Still by the end of it, my luggage and I were coated head to foot in a thick layer of brown dust and needed a wipe down/shower.
This improved slightly in 2021, with at least the path from check in to camp paved with temporary walkway panels. My advice: make sure you can consolidate your stuff onto no more than two wheeled objects and a backpack, or bring a wagon. There was supposedly a ban on hand trucks, but it didn't appear to be enforced. Also come prepared with sunscreen and water.
Camping includes a parking pass for the lot near camp (Blue Lot). Note that it's against the rules to sleep in your car. Once parked, you can go back to your car, but there are no in-and-outs.
To get adjacent tents, you and one representative from each tent need to physically check in together. There's a shaded waiting area for this purpose. We shuffled our party and camping passes based on who was arriving first, and had five volunteers claim five tents upon arrival. You can check in for someone else as long as you're holding the camping pass (a plastic card Insomniac calls the "camping laminate") and the email confirmation from when the original purchaser bought it. The remaining people in your party can then check in and get their camping wristbands on their own, they just need the confirmation email.
You can get up to 4 wristbands per confirmation email for the 4-person tents. 2-person tents (Desert Rose) are in a separate area and can't be adjacent to the 4-person groups. This means that if you have fewer than 4 people in your tent, it's possible to bring in a guest using your unused wristband slot. You need a camping wristband to get into camp, you can't just bring your friends in without one.
It was a bit of a walk from the check-in to our tent near the festival entrance. There are pedicab drivers available to take you and your stuff to your tent—for a price. We were quoted $40-$80 which seemed somewhat absurd, but there were people taking them up on it.
Initial Security
Security happens after check-in. There's a long list of prohibited items, some obvious (no drugs) some not (no loose cans) and some in-between (alcohol permitted, but limited by size and proof). The lane next to us was going verrrrrry slowly, and the screener was looking through every medication bottle. The lane we were in moved quickly, and without going into the kind of details that would aid someone planning something nefarious, let's just say the search was more cursory than expected. Don't take any chances, do your best to follow the rules. It's easy to forget that security isn't there just to make you throw out your open gum packs, but to search for weapons that I'm 100% glad weren't allowed anywhere near the crowds. Nobody wants this to happen again.
Camp Layout
Each year, Insomniac tweaks the camp layout; above is the 2021 map. Camp EDC takes up an enormous amount of space near what would normally be the Exotic Racing track of the speedway. The center of the camp is the Mesa, a fenced in activity zone with shade structures for stuff like the yoga classes and kandi-making workshops, rides, food, the general and merch stores, enormous above-ground swimming pools, and the camp stage. Tents are organized into neighborhoods, streets, and numbers. RVs and VIP tents are in separate areas, but still accessible to the rest of camp.
If you're anywhere within the speedway, Lyft/Uber will force you to use one of two official pickup zones, but fortunately Camp has its own. Previous years you had to walk quite a distance to get to the main EDC pickup spot!
In previous years, there's been a free shuttle to a nearby grocery store, but I didn't use it.
Above: a full size camping air mattress in the tent.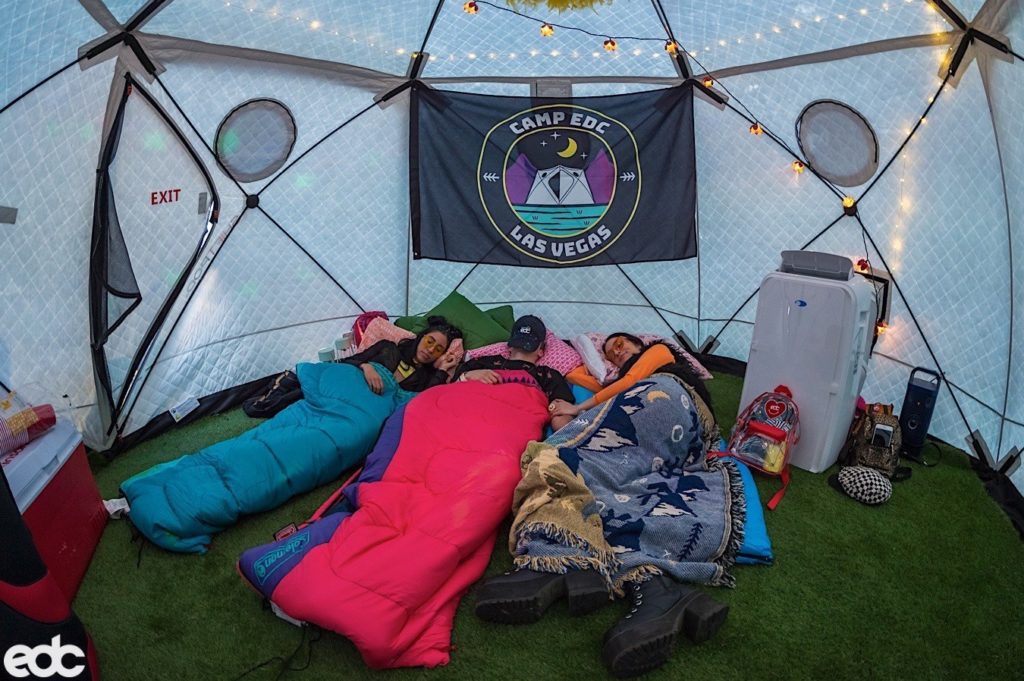 The Tents
All the tents (for all tiers other than ADA accessible) are identical hexagonal domes called "ShiftPod2"s made by Advanced Shelter Systems, 12' across and 6.6' tall. There's a zippered door on the back and front that also has a zippered screen. Be sure to bring two luggage locks to secure the door—get combo locks so you aren't beholden to one or two people in your group with the key. Full size locker-style locks will fit, but are a bit of a stretch to thread through the zipper pulls.
If you sprung for the Desert Rose tier, your tent theoretically already has a mattress and bedding. Unfortunately in 2021, this wasn't ready by check in, and some very annoyed Desert Rose friends had to walk to pick up, then inflate the bedding themselves. All tents have a soft astroturf floor, which was surprisingly cushy. In fact most of camp is covered in cushioned astroturf—it's actually the same continuous piece of astroturf that runs underneath your tent, your neighbor's tent, and forms the aisle between them. If you reach your hand under the bottom seam of your tent, you can stick it out and wave at passers by. For this reason, be careful not to store valuables against the outside walls of your tent, and don't pour out your hydration pack (or your bladder) nearby!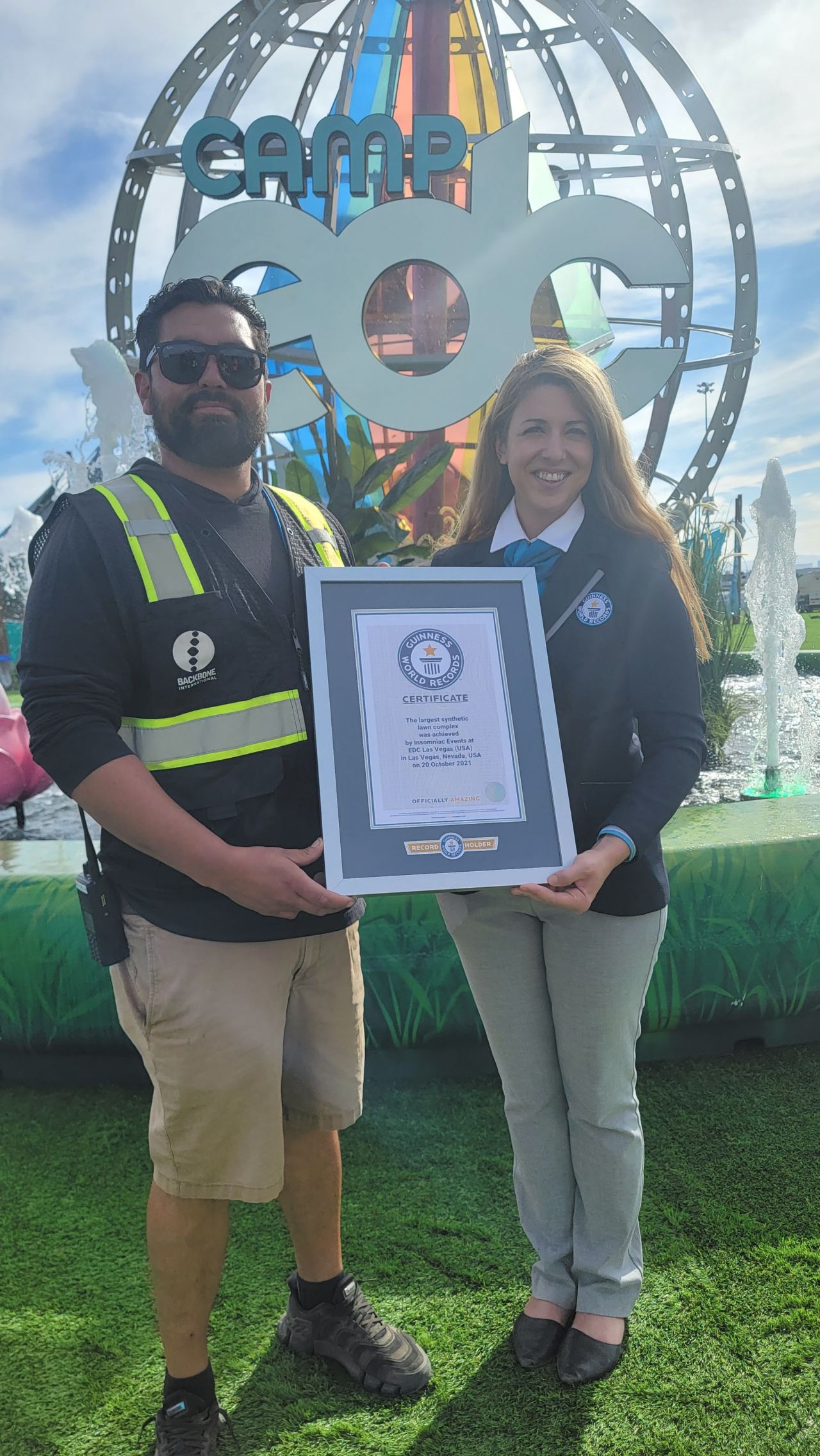 Fun fact: Camp EDC is actually the largest installation of astroturf in the world!
The tent walls are insulated and semi-opaque. They don't block 100% of the sun, but it is dim-ish with all the doors and windows closed. They reduce sound somewhat, but if someone is next to your tent talking, you'll still hear them. With foam earplugs, I had no problem sleeping. However, our friends who had a tent right next to the camp stage had a problem: their mattress vibrated with the subwoofers! The pool party runs form 4 PM-2 PM, and the afterparty is 5 AM-10 AM. If you're a light sleeper, this isn't for you.
The air conditioning is a externally vented floor standing unit that you can control. We had no problems keeping our tent cool. Just be sure you and your friends pack similar amounts of bedding—my tent mates brought what looked like a down comforter, compared to my thin fleece blanket, so their preferred temperature was a bit cooler than I'd have liked.
In 2021, Insomniac quietly decided to nix the AC for this year only because the festival had moved to October, when it was theoretically cooler. They took it off the website at the last minute, but didn't tell anyone—which led to some very grumpy campers, since although it was cooler, you're still trying to sleep in the hottest hours of the day. We caught wind of this development on social media as we were headed into camp, and picked up fans before arriving. Once we figured out that you had to leave the windows and vents open to let hot air out, we were fine. Insomniac blasted out a very salty text message on day 1, telling folks they could have a refund—if they packed up and left camp. Going forward, I expect every year will have AC—but assembling something like Camp EDC is a massive operation with a lot of moving parts, it's worth keeping an eye on what early arrivals are saying for what possible snafus you might need to prepare for. 
Inside they're quite roomy—until you start packing them with stuff. In 2019, our group brought two full size air mattresses, which on its own would be OK, but it left little room to put our luggage. The air conditioning unit takes up a good chunk of space, so we had to stack suitcases at the head/foot of beds, and were left with a small aisle down the middle. I'd recommend either only having two or three in your tent if you can afford it, or bring camping mats/sleeping bags and not air mattresses. Once we were actually settled for the night, it was plenty of space to sleep, it was just getting ready that got cramped.
In 2021, my rave bae and I shared a full size camping air mattress, while our friend used a sleeping bag, and that worked out perfectly, with plenty of room for luggage, kandimaking, etc…
There is a power strip in the tent. One outlet is taken up by the AC. You can bring your own strip for easier access to the plugs, but camp runs on generators, so there isn't a ton of power to spare—camp policy is that repeated tripped circuit breakers can get your power shut off for the rest of the festival. Keep it to phone chargers etc… and you'll be fine.
They provide a battery powered light in the tent, but it's a good idea to bring fairy/christmas lights for atmosphere, and a bigger option for when you actually need to see stuff. You can also use lights to decorate the outside of your tent to make it easier to find if you come back to it at night. A phone flashlight will do in a pinch for digging through your bags.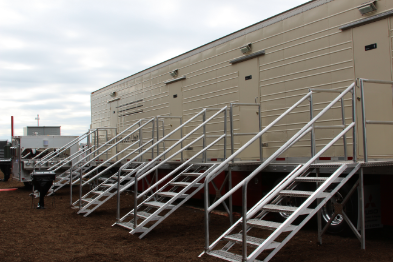 Bathrooms & Showers
This is the one that'll separate the princesses from the queens: what's your tolerance for bathroom and shower situations? I'm happy to report that to my taste, as someone who grew up camping in national parks, the bathrooms and showers were way better than the kind of camping accommodations I'm used to. That said, it's not an Equinox, think 24 Hour Fitness.
The bathrooms are in shipping-container sized trailers, and come in clusters. They contain flush toilets and heated showers. They were clearly designed for events though, not long-term camping, as the mens' trailers had three stalls per trailer, and 75% of the real estate was taken up by urinals. Still, even with this setup, I never waited more than 5 minutes to use a stall. After the first day or two, some trailers were intermittantly down for maintenance, but as long as you're willing to walk to the next group you'll be fine. In our case, walking over to the RV area did the trick.
There were several different layout types of shower. One had an aisle with stalls and shower curtains on either side, and that's it—you change inside the shower. For this reason, I started walking to the showers in just shorts and flip flops, and left the changing for my tent. You'll need to bring your own towel. In other trailers, each stall had two curtains, an inner one for the actual shower, and an outer one that formed a changing area with a sink and hooks. Some days there was no wait, other days it was about 5-10 min. There was always hot water.
Each cluster also has sinks and mirrors outside the bathrooms/showers for shaving, hair, etc… but in 2021 the water at these wasn't working for most of the festival. In general staff seems to pay attention, and the worst cleanliness situation I saw was a stuck toilet, and in the showers, a pool of brackish water formed at the end of the aisle down the middle because the trailer wasn't level. If you're very sensitive to this kind of thing, you could probably walk to the next cluster and find a better situation. There's another bank of stalls that's part of the permanent speedway buildings that's towards the festival entrance.
At times when there was a line, people were pretty PLUR and generally in good spirits. I didn't have any awkward interactions with anyone.
Now about cleaning out—yes, it's going to be a challenge. If you're in a bathroom with one working mens' stall, people are going to get grumpy with you if you take three years. Personally, I treat EDC primarily as a concert and not a circuit party, and tend to limit my otherwise very active sex life to just making out and dancing. But I know plenty of other campers who made it work!
If you want to see more details of the layout, the vendor was Active Deployment Solutions, who has tons of info on their website.

Food & Shopping
The food center had stalls run (I think?) by local restaurants. Confusingly, there was a big banner that ran over the stalls listing highlight items ("Roasted Corn," "Pizza," etc) that gave the false impression that the line below them was for that specific thing, when in fact the lines were divided up by restaurant (ie Mexican, BBQ, Vegan, etc…), with each line in the restaurant offering a full menu. The menus were on signboards that were at the back of the tent and somewhat hard to read from the back of the crowd. Prices were what I'm used to at home in San Francisco, but seemed high to folks who don't live someplace as crazy as here: $14 for two tacos, $7 for a watermelon wedge, etc… Friends who camped in 2018 said the food was excellent, I felt it was "good enough." In 2021 I found it hit or miss, with some of it awesome and a lot of it mediocre. Unsurprisingly, the trashiest/most indulgent options, like Lobster Mac n' Cheese or Jumbalaya Fries were the tastiest. Admittedly, I have high standards. Expect to spend $15-20/meal if you want to be full. There's no seating, just standing tables—probably to encourage you to eat and move along to make room for the next group. It is, however, shaded.
There were also food trucks off to the side, and we found the food in general was better there. While some places were open late night/early morning, the staff definitely seemed less thrilled to be there than they were at lunch/dinner time, and the pickings were slim, with a lot of menu items unavailable. This is where it's useful to come with your own food so you can eat something and crash at the end of the night without having to trek to the Mesa, wait in line, and then have to choose between a hot dog or a hamburger for breakfast.
There's a free water bottle filing station; rather than cycling through filling and dumping your hydration pack (it has to be empty to enter the festival) I found it easier to bring a separate water bottle for camp use. I also used it to mix powdered coffee in. Only Insomniac-brand bottles are allowed; you can buy one onsite if you don't have one from a previous year. If you brought a cooler, you can buy ice at camp.
There's an Insomniac merch store, and a General Store; you can find a list of items sold (from 2018) here. There are also a few rave wear stores operated by independent vendors, open more limited hours. Because it was unusually cold in 2019, the store quickly ran out of blankets and hoodies.
You can also shop offsite—see Camp Layout above for the caveats.
Camp Entertainment
Camp EDC offers an extensive list of activities that would be enough to make it a standalone event even without the world's largest dance festival attached. The primary focal point was the Bamboo Stage at the end of the Mesa, which played host to the Thursday night preparty, pool parties, and after parties. When Kaskade's Kinetic Field set got canceled due to wind, campers took comfort in knowing he was scheduled to play the camp afterparty for the die-hards at 7 AM that morning. (See video from camp about 1:30 in: My EDC 2019 Recap) In general, the programming at the stage wasn't to my taste; a bit too old-school house at some points and a bit to hard at others. But the vibe was great—it was fantastic to arrive Thursday night and look around to see someone in an inflatable pikachu suit dancing amid a sea of crazy totems and light up costumes. It really felt like coming home!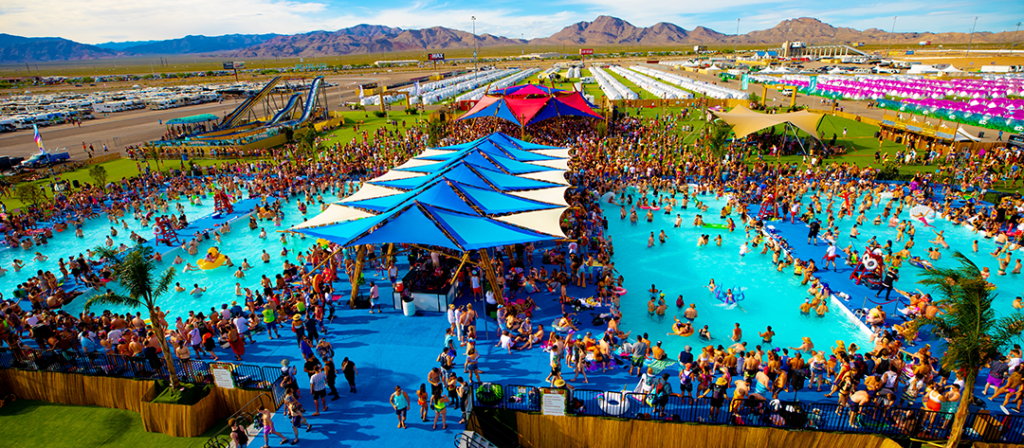 Unfortunately, my friend's Desert Rose tent was located too close to the Bamboo Stage, which operates from 5 AM-10 AM for the afterparty, and then kicks back on at 4 PM for the pool party the next day. Props to the sound guys for deploying some impressive subwoofers, but they were so powerful that they vibrated my friends' air mattress! Fortunately my tent was on the opposite end, and although we could hear it faintly in the distance, it wasn't a problem for us.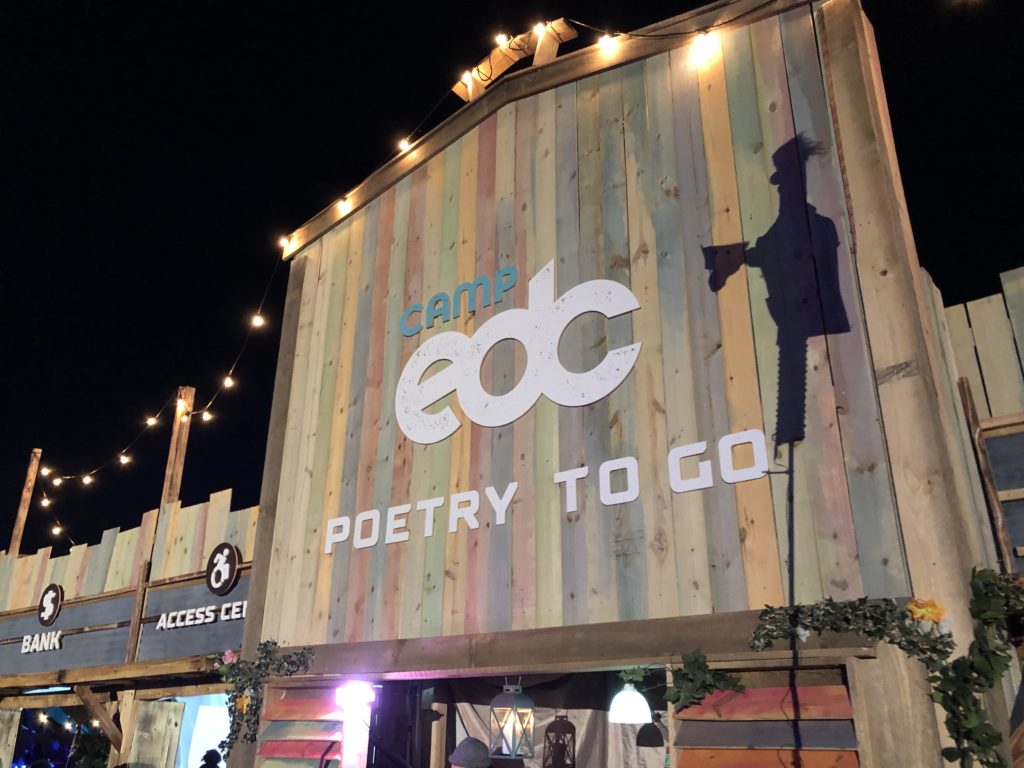 There are different rides at camp each year, 2019 included a log flume ride (!), 2021 had a slide big enough to catch airtime on, and a Ferris wheel. There were also two massive shade structures holding events throughout the day, ranging from free haircuts and massages to Goat Yoga to slacklining classes to intramural sports to wellness seminars to to-order poetry written on typewriters to live bands—here's a full schedule from 2019. Finally, there was a juice and tea center, and a semi-hidden chill-out area with hammocks. In the center of it all was a fountain with a giant insta-ready EDC globe. I was so busy with the festival, or getting ready to go to the festival, I didn't do any of the activities. They looked fun, though!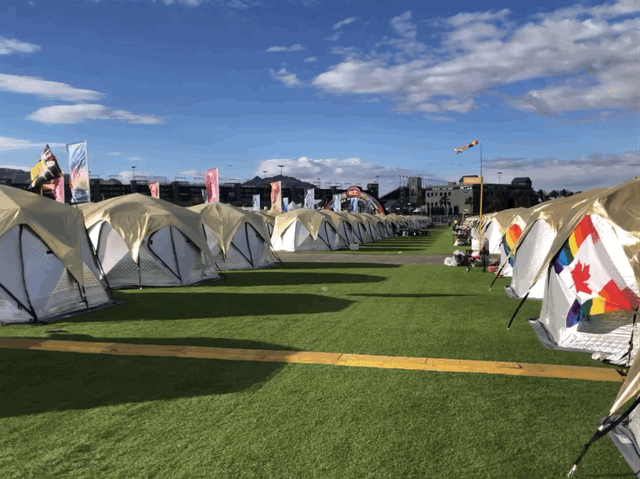 Getting In/Out of the Festival
This is the reason to camp: skipping the godforsaken time suck that is the EDC shuttle. The PLUR ends in the shuttle line—especially at the end of the night when everyone is exhausted and baking in the rising sun, this is the one part of EDC where you'll see people in a bad mood. I'll do anything to avoid it—and because with each passing year I know more of the DJs, I want to be there early to see more of them.
Depending on where you are in camp, it takes five to ten minutes to walk from camp to the festival entrance, and ten minutes to get thru security. (Turquoise, 15 min) There's a more restrictive list of items that are not allowed into the festival than what's allowed in camp, so again, read that list carefully. It can be capricious depending on which screener you get, but don't take any risks of having to separate from your group to walk back to your tent to leave a prohibited item behind. Although you can bring drinks and alcohol into camp following the ABV/size guidelines above, you can't bring any liquids into the festival, all containers including hydration packs must be empty.
But OH. MY. GOD. it's lightyears better than having to schlep thru the strip in your rave gear with midwestern tourists gawking at you to the shuttle stop, waiting in line, and then praying to the traffic gods to make your shuttle ride an hour instead of three. Even with the Premiere shuttle, in 2018, it took our group between one and three hours to get in/out of the festival each way. Walking into the festival from camp is awesome—plus you're welcome to come and go as you please between the two, so you can take a break in your tent if you need to.
Unfortunately, you can't bring guests into camp, though Insomniac did do a camp open house one of the days (that a lot of campers were unhappy about for security reasons—lock your tent!). If your tent has less than four people in it though, you can use your empty slot to bring someone in. It's four wristbands per tent, whether or not four bodies actually sleep in one. But choose wisely (or apply that wristband loosely) as once the surplus wristband is on you can't transfer it.
Check-Out
Check out time is 5 PM Monday—be sure to plan your flights accordingly. When you're ready to leave, you empty out your tent, take out your trash, and put a zip tie that they provide you on your door to seal it closed. On Monday afternoon 2021, the rideshare "Camp EDC" location was gone, and we had to pick a location on the nearby street to get a ride, so be prepared to do a bit of walking with your luggage again.
First time at EDC? Check out my Gay First Timer's Guide to EDC
I hope this guide was useful! If you have any corrections or suggestions, feel free to leave them in the comments. If you see me, be sure to say hi!
Spread good vibes and be #plurIRL! ❤️
-Chris